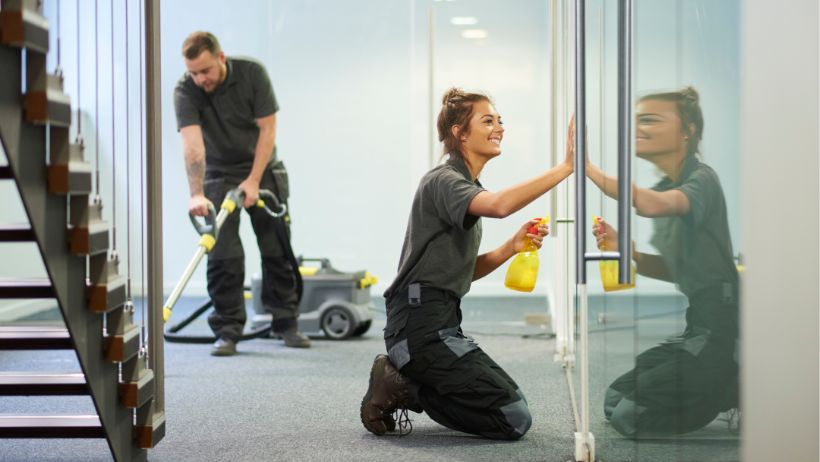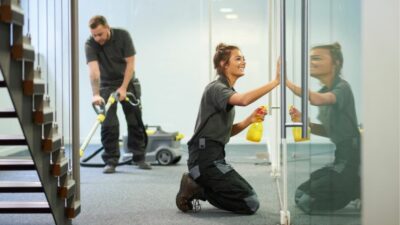 Are you the owner of a local business that needs regular professional office cleaning services? You may have already considered enlisting the help of a large janitorial franchise to get the job done simply because the name sounds familiar. But if you are searching online for Houston business cleaning "near me" you will likely find several good options for smaller local janitorial services, too. 
So before committing to one particular company, it is important to consider the advantages and disadvantages of working with either a local cleaning service or with a larger franchise. In this post, we'll discuss why using an established, smaller local company is a great option for your office cleaning needs! 
We would be more than happy to provide you with a quote for the specific cleaning services you need. Contact us today to request one!
Advantages of Using a Local Cleaning Company
There are many advantages to using a local cleaning company that's invested in your community. Local companies often have deep roots in the area. When you choose to work with a smaller, individual Houston company providing business cleaning near you, you know you're supporting people that take pride in their work. 
As a business owner yourself, you understand that they would have had to put in a lot of hard work to become established and maintain a positive reputation amongst other local businesses. As a result, local cleaning companies tend to be very conscious of quality control and training. This means that they place a priority on doing a great job cleaning your office, not simply checking off another name on their long list of clients like some larger companies may do. By choosing a local company, you're not only getting top-notch service, but you're also supporting your community.
Local Economy in Houston
There are around 100,000 small businesses in Houston! Supporting local businesses in Houston is more than just a transaction; it's an investment in your community. For example, when you shop at local stores, you're not only getting unique, quality products from your neighbors, but you're also helping to create a thriving economy. Houston ranks among the nation's top 10 metro areas for small business startups, with an average of 9,000 new businesses launching each year.
Supporting local businesses means more job opportunities, more taxes paid to local government, and a stronger sense of community. By keeping money within Houston, you're ensuring that your community continues to grow and prosper in ways that benefit everyone. 
Cost Comparison of Services from Small Businesses versus Large Franchises
When it comes to hiring a cleaning company, cost is always a factor to consider. Many people assume that going with a large franchise operation is the obvious choice for saving a few dollars. However, that may not always be the case. 
While a larger company may have more resources and a recognizable brand, a local cleaning company may be able to offer more affordable rates because they don't have franchise fees or out-of-state taxes to offset. Plus, they may be able to provide more customizable pricing options so that you are only paying for the cleaning services you need, versus the structured service packages from larger companies.
Either way, it's always worth taking the time to compare pricing and services between both options before making a decision. 
Local Businesses Can Offer Flexible Service Options
Maintaining a clean work environment is crucial in any business operation. However, with so many janitorial service providers around, it may feel challenging to find the perfect fit for your specific business needs. Luckily, if you're looking for a Houston business cleaning near you, you have the advantage of local cleaning companies that offer maximum flexibility. These companies don't have to follow stringent franchise plans and pricing restrictions, which allows them to create tailored cleaning solutions that match your budget and cleaning requirements. Whether you're a small start-up or a large corporation, partnering with a reliable local cleaning company can benefit your business.
Tips for Successful Communication with Your Provider
Once you choose a reliable cleaning services provider that can meet your needs, maintaining a successful communication flow is essential. If you are working with a local company, you know you will be able to reach out to them more easily than a large corporate headquarters somewhere else in the country! 
Asking the right questions can help you get started on establishing a good working relationship with your chosen cleaning service provider. Consider inquiring as to what kind of cleaning equipment and supplies if you have employee health issues to manage, or fragile office decor that needs to be cleaned in a specific manner. Also, ask about their policies and procedures for dealing with any quality control issues and how they ensure your office is secure during cleaning. By asking these questions up front, you can ensure that your business receives the level of service you require and that your communication with the cleaning provider remains open and effective.
Looking for Houston Business Cleaning Near Me? Check Out Accredited Building Services
Using a local company for janitorial services helps develop a stronger network of small businesses in Houston.  Not only are you investing in your community when you use a cleaning service that has worked hard to become established, but their services are sure to provide the results necessary for your property due to their sense of ownership and accountability. When choosing the right janitorial option for your needs, consider asking questions about how they will customize their service offerings for you—and see how the price breakdown can work in your favor due to flexible, straightforward payment options.
Contact us for a quote today to see how Accredited Building Services can become part of your established network of local businesses supporting one another.