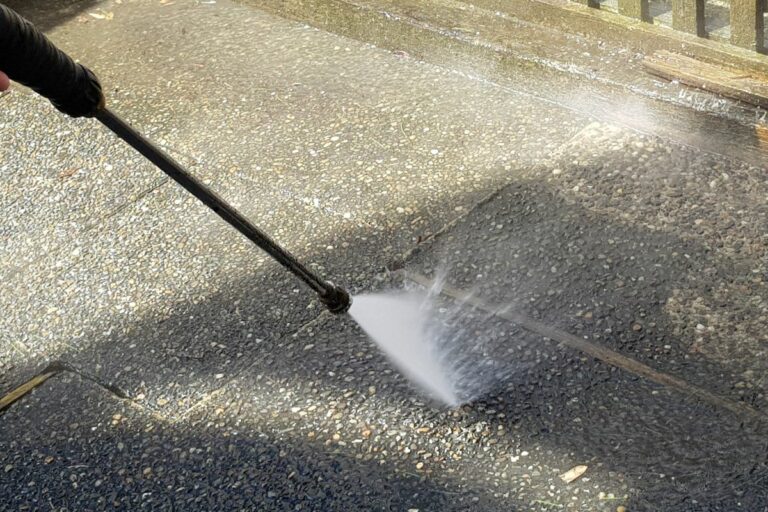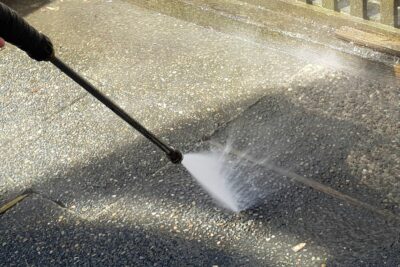 When you think about Houston commercial cleaning, you probably picture a cleaning professional mopping the floors or wiping down surfaces. While interior cleaning is important, exterior cleaning is also critical for your property. In fact, it can have a huge impact on your business. One popular method for exterior cleaning is pressure washing. 
Pressure washing, also known as power washing, is a cleaning method that uses pressurized water jets to clean hard materials, usually outdoor surfaces like walkways or building cladding. In some cases, it may involve just water to clean or your Houston commercial cleaning team may use cleaning agents to help with cleaning. If you don't already have a plan for exterior cleaning through pressure washing, now is the time to consider how this service can elevate your cleaning and maintenance program. Read on to learn more about pressure washing for your commercial or industrial building. 
If you need pressure washing or other cleaning and maintenance services, contact our team today for a free quote. 
Why Include Pressure Washing in Your Houston Commercial Cleaning Program?
Pressure washing is an effective cleaning method that can remove a lot of dirt, debris, and grime. It can even handle caked on buildup that is difficult to remove with other methods. It also works really well for both general grime and more specific concerns like mildew and algae growth on surfaces. It's also a pretty quick and low cost service to add to your Houston commercial cleaning program. Pressure washing is a great way to improve the appearance of your property, reduce deterioration for exterior materials, and also keep interiors cleaner by reducing the amount of grime that people come into contact with before entering your building. 
Pressure Washing Improves Curb Appeal
One reason to add pressure washing to your normal Houston commercial cleaning and maintenance program is because it can improve the curb appeal of your building. Appearances are important, and it's essential to put your best foot forward, starting with the building exterior and grounds for the property. 
Why is this important? The physical appearance of your property can have a huge impact on the business. Surveys show that 95% of consumers say how the outside of a building looks affects their decisions about where to shop. Over half will not work with a business if the outside looks shabby or poorly maintained. 
Pressure washing helps remove grime that can make your building and property look dirty, dingy, and unkempt, driving potential clients and talent away. So, pressure washing can be a really valuable tool in keeping your property looking professional and presentable. 
Pressure Washing Slows Deterioration
Another thing to note is that Houston building cleaning with pressure washing removes grime that can actually speed up the deterioration process. All materials deteriorate and eventually need replacement, whether we're talking concrete or building cladding. However, dirt, grime, and mildew buildup can all affect this process, essentially fast-tracking aging for your building and property. 
Instead, with regular pressure washing, you can address this buildup before it becomes a problem that increases long-term costs by reducing service life for various building materials. With help from our Houston commercial cleaning team, we can design a schedule optimized for maintaining longevity for your building and outdoor surfaces. 
Pressure Washing Can Reduce Interior Houston Commercial Cleaning Needs
Additionally, pressure washing for certain surfaces, like parking lots and walkways, can actually reduce Houston office cleaning needs indoors. Anyone entering your building will likely have to walk through your grounds, such as through the parking lot and down sidewalks leading to the building entrance. As such, everything on these surfaces can get transferred to their shoes and, eventually, your floors. This includes things like dirt, germs, and even used chewing gum that might be on surfaces outside your building. However, with ongoing pressure washing, we can remove these contaminants to reduce efforts needed for interior Houston commercial cleaning. 
Choosing the Right Houston Commercial Cleaning Team for Pressure Washing
Keep in mind that you'll need to be selective about who you hire for pressure washing. Many people offer this service without any real training or even without proper insurance to protect you in case of damage or injury from pressure washing. One way to avoid this is to work with our trusted Houston commercial cleaning team, who can offer all the cleaning services you need for your building, inside and out. 
The right professionals will tailor pressure washing to your exact needs. This includes schedules as well as the pressure washer settings to ensure they are effective at cleaning without damaging the material. They'll also obviously carry the correct insurance policies to provide you with full protection. 
How Often to Schedule Pressure Washing Houston Commercial Cleaning Services
You should talk to commercial cleaning experts about how often you should pressure wash your building. This way, they can look at specific conditions that affect your building to provide you with a customized recommendation. However, usually the minimum recommended pressure washing interval for exterior Houston commercial cleaning is once per year. Most property managers schedule for every season or quarter to maintain a clean, professional exterior and reduce risks associated with grime buildup. They may also schedule as needed for specific concerns like mildew or algae growth. 
Areas of Your Commercial Property that Need Pressure Washing
There are many areas of a commercial property that can benefit from regular pressure washing. Essentially any hard surface outside of your building is a good candidate. For instance:
Parking lots
Parking garages
Building facades
Roofs
Walkways
Sidewalks
Concrete pads
Benches
Exterior statues
Just keep in mind that there are some surfaces that aren't well-suited for pressure washing because the water jets can actually cause damage for softer materials. For instance, you might want to avoid pressure washing certain types of masonry, as high pressure water can displace mortar and damage softer bricks and stones. 
Unmatched Houston Commercial Cleaning Solutions from Accredited Building Services
When you need interior and exterior Houston commercial cleaning, trust our experts at Accredited Building Services. For 43 years we have been Houston and Beaumont's go-to company for commercial and industrial cleaning. We offer customized cleaning and maintenance solutions for buildings of all types and sizes. Our team is expertly trained not only on effective cleaning practices, but also security measures to keep your building safe at all times. Everyone on our team also passes an extensive background check so you know you can trust who you're giving your keys to. Get building cleaning the Accredited way – contact us now to request a quote for your property.