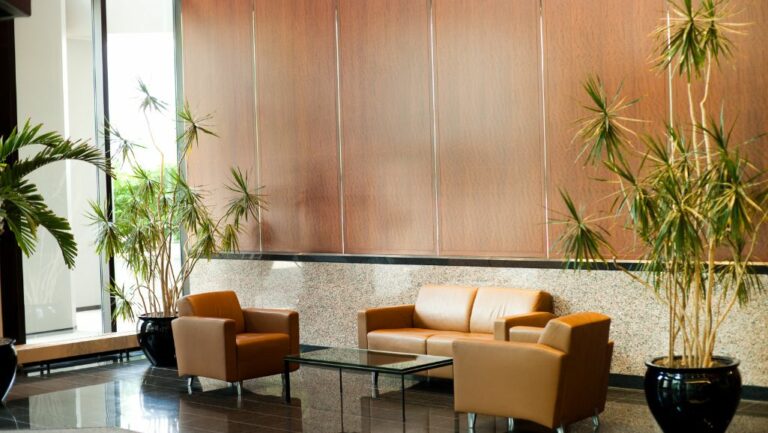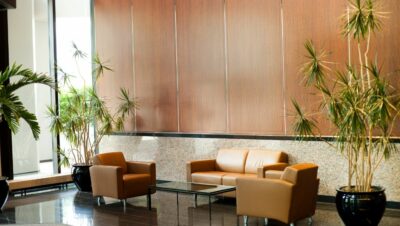 If you've ever walked into an office and felt comfortable and warmly welcomed, chances are there was something special about the lobby. Everything from the furniture arrangement to the wall art can convey a message of hospitality and create a good first impression with visitors. As an office manager or business owner, it's essential that your public areas successfully represent what your company stands for and show guests what they can expect when interacting with you. 
Follow these tips for making the best out of your volume so all who enter will experience world-class service. Once you've determined the best lobby setup for your business, contact us for Houston commercial cleaning service to ensure your space is sparkling clean, showing your choices to the best advantage!
Set the Tone with an Inviting Welcome Sign
As we approach a business, the first thing we see is a welcome sign. It sets the tone for our experience and can make us feel either welcomed or intimidated. A warm, inviting welcome sign can create positive vibes from the very beginning. It can convey to visitors that they are valued and that their arrival is expected. 
A good welcome sign should be clear, readable, and placed in a prominent spot. It can be a reflection of the style and character of the owner or the business. Ultimately, a well-crafted welcome sign can enhance the overall atmosphere and help create a memorable experience for all who enter.
Maximize Natural Light to Brighten up the Room
The power of natural light is undeniable. It has the ability to significantly impact our mood and well-being. Maximizing natural light in your lobby is not only aesthetically pleasing, but it can also have a positive effect on your customers' and employees' mood. Some ways to do this could include:
Ensure windows are bright and clear with Houston commercial cleaning.
If blinds are needed to manage direct sunlight, choose ones that can still allow light through while filtering the intensity.
Use warm light in ceiling bulbs.
Incorporate mirrors, glass, or other reflective materials to increase light around the room.
Add in some table or floor lamps for extra sources of warm light.
Utilize Comfortable Seating and Decorate with Plants 
Creating a home-like atmosphere in a space can be easily attained through comfortable seating and the addition of plants. With comfortable seating, individuals can relax and unwind in a comfortable setting that feels more like home. This can be achieved through plush sofas or chairs that offer both comfort and style. 
Additionally, integrating plants into a space can add a touch of nature that offers a calming sensation. Not only do they add aesthetic appeal, but they also offer health benefits such as improved air quality. 
Add Artwork to Create Interest and Define the Space
A room without any form of decoration on the walls can feel empty and uninspiring. This is why artwork comes in handy when you need to add some character to your space. Artwork can define the space in a way that no other design element can. It can reflect your business or brand, add color and texture to a plain room, and can even serve as a conversation starter. 
Every piece of art has a story to tell, and incorporating them in your space adds layers of meaning and a sophisticated touch to your decor. From abstract paintings to sculptures and tapestries, there's an art form for every business space. 
Make Use of Technology 
Consider setting up digital displays to greet guests in the lobby, providing them with clear instructions or showcasing relevant information. Additionally, offering Wi-Fi access in the lobby can make waiting times more enjoyable for guests and boost their productivity. By leveraging these advancements, you'll be showing your visitors that you are willing to go the extra mile to provide a positive experience.
Rely on Houston Commercial Cleaning to Keep the Area Spotless and Sanitized
Maintaining a clean environment is of utmost importance. This is where your Houston commercial cleaning services come to the rescue—we not only ensure that the area is spotless, but also sanitized. With expertise and specialized equipment, we can effectively clean and disinfect commercial spaces, leaving them safe and hygienic for all occupants. 
By relying on our professional cleaning services, businesses can have peace of mind that their premises are maintained to the highest standards of cleanliness, contributing to a safe and healthy work environment. 
Spotless Commercial Cleaning in Houston
Accredited Building Services is the janitorial company you can rely on. We have comprehensive service packages to suit your business needs and high-quality staff to make sure your lobby space is spotless and sanitized. Our teams in Houston take pride in their cleaning services, allowing your customers to experience a clean and germ-free environment anytime they visit. 
Don't settle for anything less than the best when it comes to commercial building cleaning—choose Accredited Building Services as your go-to professional cleaner. Contact us for a quote today, and let's get started on making sure your business looks its absolute best.