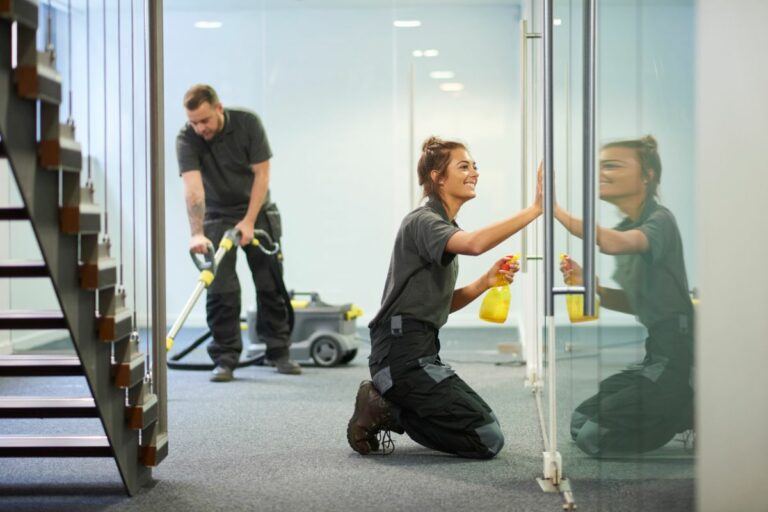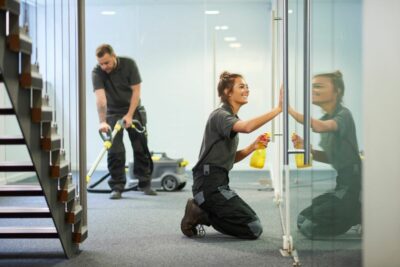 Houston office cleaning services help keep your work environment sanitary and professional. Practically every workplace can benefit from regular cleaning, but what exactly does that entail? Different companies do this differently, so it's important to ask what's included before signing a cleaning contract. With our team, we create customized checklists specifically tailored to your needs and budget. This allows us to ensure that you receive the exact services you need without paying for the ones you don't. In this article, we'll discuss some common cleaning services you might need for your office and some tips for choosing a cleaning company so you can be sure you select the right solutions for your company. Read on to learn more. 
If you need cleaning for your office or industrial workplace, our team at Accredited Building Services is here for you. We offer 43 years of experience to provide you with all the cleaning and maintenance services you need. Contact us now to get a free, custom quote for your facility. 
Creating a List for Houston Office Cleaning
Some Houston janitorial services companies create standardized cleaning checklist they use for every facility. However, we don't like doing this because no two workplaces are the same. As such, we create customized lists for each and every building to match your needs. 
Therefore, one of the first things to do when you need Houston office cleaning is to create a basic list of services you need and the intervals. There are some services you might need daily, weekly, and less frequently like quarterly or annually. Having a basic list in mind can help you create the right cleaning contract with our team and ensure you get the exact services you need. To do so, you can talk to our experts and also keep in mind a few common services that most workplaces need. 
Talk to Our Experts About Houston Office Cleaning Services You Need
One way you can create a Houston office cleaning list to make sure everything you need is included is just to talk to our team. Our specialists have years of experience creating custom cleaning checklists designed for specific buildings and workplaces in mind. We can ask you various questions to get a good sense of the building size and layout as well as the important services that you'll need. From there, we can refine the list with your input and provide an estimate based on your needs. This consultant approach is how we provide quotes for cleaning that are completely customized to each business. 
Common Houston Office Cleaning Services
Of course, it can also help to have a basic list of services you might need in your head, too. To do this, it's important to know some common Houston janitorial services that most facilities need. Knowing what others are doing can help you get a list together and make changes based on your specific needs. Keep in mind that there will be services you'll need every day, every week, and also less frequently to keep your building in top shape and ready for your employees and customers. Here are some of the most common cleaning services you may need for your office:
Daily Houston Janitorial Services
Practically every office can benefit from daily Houston office cleaning. It's amazing the amount of mess and germs that your average workplace can generate in just an eight hour day. Having your cleaning crew come in at night after closing every single workday is a great way to keep up on these messes so they don't start to affect your workflow or the overall look of your office. 
The exact daily cleaning tasks you need will change based on your office. However, some daily services you may need include:
Empty trash and recycling bins
Vacuum floors and mats
Mop hard floors
Dust furniture
Clean desks and other horizontal surfaces with soap and water
Clean high touch surfaces with soap and water
Disinfect high touch surfaces 
 Spot clean walls (especially near light switches and door frames where smudges are common)
Clean and disinfect restrooms
Restock restroom supplies, including

Hand towels
Toilet paper
Hand soap
Air fresheners

Clean and disinfect kitchen/break room areas
These daily cleaning services are the perfect way to stay on top of everyday messes and keep germs at bay that can make people sick. 
Weekly Cleaning Needs
In addition, there are some Houston office cleaning services you might not need every day, but about once a week. It's common to have your cleaning team perform these extra tasks in addition to daily cleaning tasks on a Friday evening so they're done once a week before Monday. Having everything cleaned extra over the weekend can be a huge mood boost on Monday morning and set the right tone for the rest of the week. 
Some weekly commercial cleaning tasks you might need include:
Dust tall surfaces
Remove perishable food from the communal fridge
Clean and disinfecting the breakroom fridge
Vacuum office chairs and upholstered furniture
Dust HVAC vents
Dust light fixtures
Disinfect desks/tables
Wipe down blinds
Clean window interiors
These are cleaning services you probably don't need everyday to keep your office looking clean, but shouldn't be neglected for too long either. 
Less Frequent Houston Office Cleaning Services
Of course, there will be some other cleaning services you may need throughout the year but not necessarily on a daily or weekly basis. It's also critical to consider these needs when creating a cleaning schedule for your office. Otherwise, these can easily slip through the cracks and get neglected. 
For instance, you might need carpet cleaning on a quarterly basis to keep carpets clean and fresh. Similarly, you might need one-off services for carpets like stain treatment, which our Houston janitorial services team can do on an as-needed basis. In a similar vein, you might need upholstery cleaning a few times a year or at least annually for office furniture. Some offices even need hard floor stripping and waxing once a year to prevent unnecessary wear and tear on hard flooring like vinyl composite tile (VCT). 
Choosing the Right Houston Janitorial Services Company
Houston office cleaning is so important for maintaining a good reputation as a business. Therefore, it's critical to choose a team that you can trust to take care of all your cleaning and maintenance needs. Look for a company that customizes cleaning schedules for the most practical and budget-friendly solution for your office. Also choose a company with a great reputation that you can trust to provide in-depth and quality services. 
Get Unmatched Cleaning & Maintenance from Accredited Building Services
If you need cleaning and maintenance for your commercial or industrial facility, look no further than Accredited Building Services. We are proud to serve businesses throughout Houston and Beaumont through expert janitorial services. With over 43 years in the business and a proven track record for success, you get peace of mind that we'll handle everything you need to keep your workplace sparkling clean and germ-free. Contact us today to get a quote from our experts.