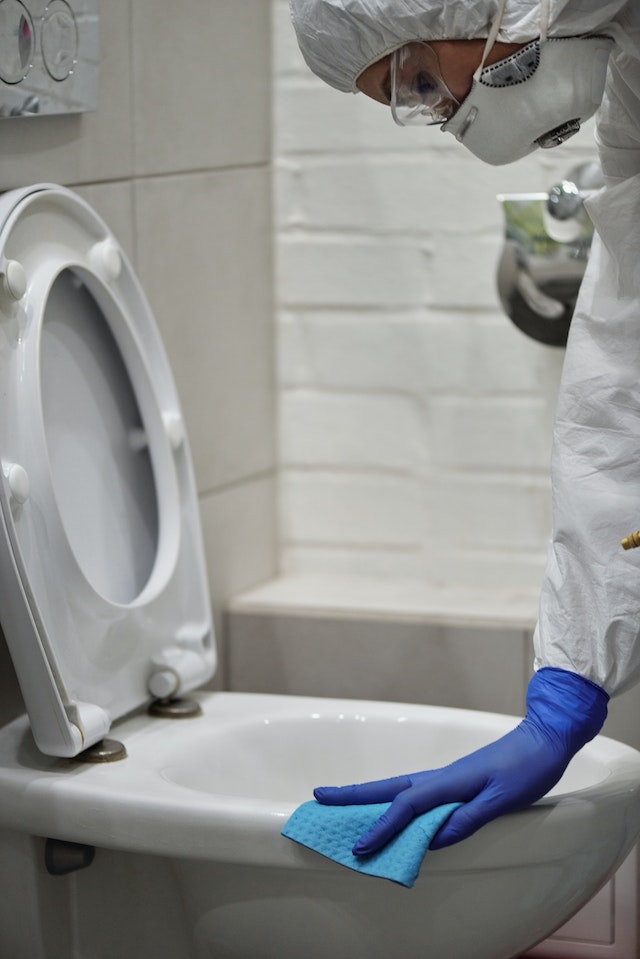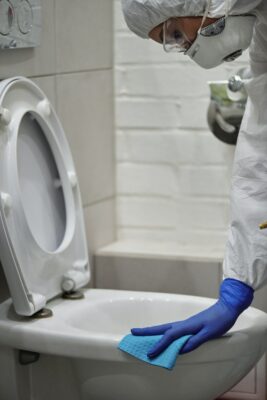 Public restrooms often act as a magnet for various types of germs and diseases. A qualified team providing Houston janitorial services is necessary to get into those restrooms and clean them up. Otherwise, any public restroom might pose a significant health risk to anyone who uses it. 
A full and complete Houston building cleaning will always include extra attention on the bathrooms. Given that these rooms are among some of the most high-traffic in any building, it is particularly important to ensure that they are clean.
Houston Janitorial Services Keep Restrooms Germ-Free
Many people are somewhat cautious about using a public bathroom. They are understandably concerned that they might enter a bathroom that hasn't been properly cleaned, or one that is full of germs. 
To ease concerns about the sanitation of public restrooms in commercial areas, they need regular cleaning. This is true not only because a dirty restroom might leave a bad image in the minds of customers but also keep people from getting sick. Houston janitorial services can keep a restroom safe and clean for the public to continue to use. 
What Germs Are In Your Restroom?
Researchers have studied the spread of germs in great detail, and the results that they found are terrifying. Livescience.com reported on the findings of one study of germ buildup in public bathrooms: 
People bring a lot of bacteria into bathrooms, the researchers found. Within an hour of regular use, on average, there were 500,000 bacterial cells per square inch on the bathroom surfaces.
They found many germs after just one hour. Imagine the accumulation of germs over the course of a day or two. Without proper sanitary procedures, a public bathroom can quickly become a very dangerous place to be. 
The following types of germs are commonly found in bathrooms (among others): 
Streptococcus
Staphylococcus
E Coli
Shigella bacteria
Hepatitis A virus
Common cold virus
Various sexually transmitted organisms 
Any of these types of germs can be potentially harmful to humans, and all of them are things one should want to avoid. This is why Houston commercial cleaning services are in high demand. The public is more aware of the spread of germs in their environment, and no one wants to expose themselves to more risk than they need to. 
How Houston Janitorial Services Get Rid of Germs in Your Restrooms
Our team of professional commercial cleaners will come to your commercial building and help get your restrooms cleaned and sanitized. We equip our experts with the latest sanitation products required to effectively complete the job. 
Every surface within the restroom is thoroughly cleaned to neutralize any potential germs and also ensure a clean, fresh smell. We also dispose of any trash or debris discovered within the restroom. 
Houston Commercial Cleaning with Soap Removes Germs from Surfaces
Germs tend to congregate on surfaces. These are the spaces that people who use the restrooms touch the most, and that is how the germs get transferred there in the first place. Thus, it is critically important to completely scrub down all surfaces within the bathroom with soap to get rid of those germs. 
Houston janitorial services should always include using soap and water on every surface of the bathroom. Soap breaks down germs on the molecular level. Soap helps remove them so they are not a threat to people in your building. Thus, you will need Houston janitorial surfaces to frequently scrub down every surface of your bathrooms on a regular basis. 
Disinfection Houston Janitorial Services Kills Germs on Surfaces
Our professionals also use disinfectant products to ensure that no germs are able to escape. This extra layer of sanitation gives you a bit more peace of mind that your restroom is completely safe for people to use. 
Proper Disinfection Steps
There are specific steps during the disinfection process:
Start with Soap and Water – The first step is to remove any obvious grime and/or dirt from the surface that you are disinfecting. You need to eliminate those surface-level issues before moving on to the next step. 
Spray a Safe-to-Use Disinfectant on the Surface – Cover the surface area with a disinfectant that is safe to use on surfaces. Always check labels to ensure that the disinfectant selected won't damage the surface. 
Allow for Dwell Time – To work properly, the disinfectant must remain on the bathroom's surface for some time. The disinfectant bottle should provide a reasonable estimate of the time it needs to sit. Allow for that time to pass. 
Wipe Away the Residue – Once the disinfectant has had enough time to sit and dwell on the surface, simply wipe away any remaining residue.
These are the proper steps that your Houston janitorial service will follow. 
Be Careful of Cross Contamination
Cross-contamination is always possible if the same tools are used repeatedly during the cleaning process. For example, it is possible for someone who is cleaning a public restroom to inadvertently cross-contaminate the bathroom by using the same rag repeatedly. That might transfer germs from one surface to another. 
One way to avoid making this mistake is to use color-coded rags. Assign certain colored rags for use on certain surfaces within the bathroom. Use other colors for other types of surfaces in the office. Never mix the colors up, and ensure you can always clean them completely after each use. 
Choose a Houston Commercial Cleaning Crew You Can Trust
The stakes are too high to use just any random cleaning crew for your bathrooms. You need to go with a crew you can trust, and one you are certain will get the job done effectively. 
Since 1980, Accredited Building Services has been a trusted janitorial services company for businesses throughout Greater Houston. We always work with our customers to help them get the Houston commercial cleaning they require at a price they can afford. Choose our team for both daily and deep cleaning needs. Any type of challenge that you may face, we are here to help. Every team member at Accredited Building Services is properly trained on the best cleaning methods. We spend extra time working with them on proper disinfection techniques and cross-contamination prevention. 
If you want to put your anxieties about the sanitation of your public restrooms behind you, please contact us for a free quote for our janitorial services.