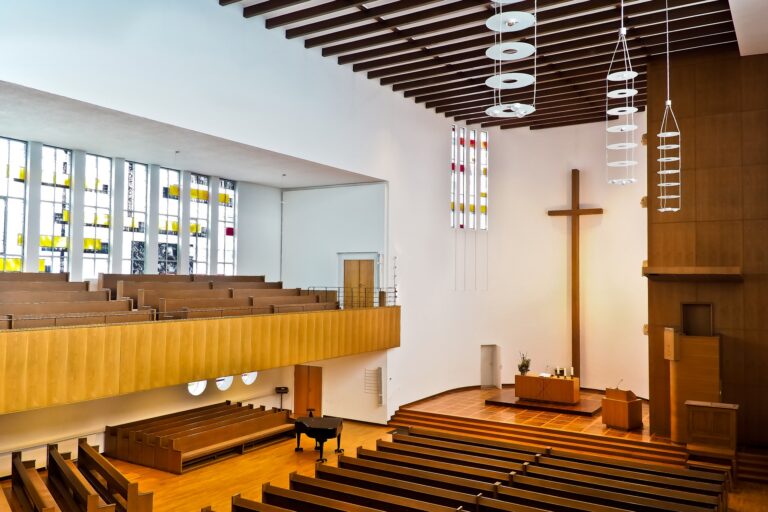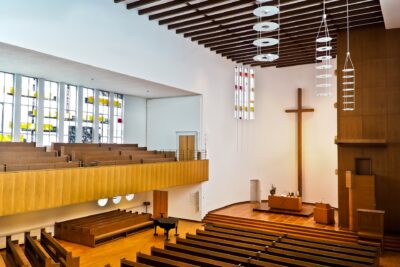 Your church is a place of peace and comfort for your congregation, which is why it's so important to provide a clean environment for worship. Houston janitorial services help get rid of germs and allergens that can make members sick. Cleaning can also help reduce the amount of wear and tear on important surfaces like church seating, carpets, and more. Therefore, it's important to find a professional cleaning crew you can trust for your worship facility. We'll discuss why you should outsource church cleaning services to help keep your church clean and germ-free.
Why Outsource Houston Janitorial Services for My Church?
There are many reasons why you should consider Houston commercial cleaning services for your church. High quality cleaning services can help remove dirt and germs for your congregation, help reduce wear and tear to items in your church, and also help reduce the risks of using volunteers for church cleaning. 
Happy, Healthy Congregation
One of the main benefits of Houston janitorial services is that they help keep members happy and healthy. Many come to your church to find peace, but that can be hard to do with dusty surfaces, unpleasant odors, and potentially harmful germs lurking in every corner. 
Regular cleaning helps remove these so your members can focus on more important things. Your congregation deserves a clean and germ-free environment to worship in. It's also important to help protect members as much as possible against serious illnesses, many of which they can contract from touching germs on unclean surfaces. Therefore, regular cleaning from professionals can go a long way for helping keep members healthy and happy. 
Quality Houston Commercial Cleaning Services Help Keep Items in Good Condition
Another reason to choose professional church cleaning services is because it can help keep your church in good condition. For instance, regular cleaning can help extend the life of carpets, furniture, hard floors, and more. Therefore, not only does this help keep your church looking clean and in good condition, but it can also help reduce long-term expenses for replacing worn furniture, flooring, and other items. 
Reducing the Risks of Volunteers Cleaning Your Facility
Now, you might be thinking "why not ask volunteers to help clean the church?" While you certainly can, it's important to also understand the risks, both to your church and to the volunteers. 
First, there's no guarantee you'll have enough volunteers to help clean your church as often as you need. Also, even the most lovely volunteers from your congregation may not know how to clean your church properly. For instance, they may use the wrong chemicals on surfaces and damage them. In other cases, they might not use the proper methods to kill and remove germs. Some may even use methods that encourage cross contamination, which spreads germs from one area to another. 
You see, cleaning a home is a lot different than cleaning a public space like your church. Most people don't have the training needed to clean your church correctly, which can put your congregation at risk.
Also, there are some risks to your volunteers as well. For example, in many cases your church will probably be purchasing cleaning concentrates, as they're often cheaper and easier to store. These need to be properly diluted, otherwise they can cause harm, like skin or eye irritation.
In addition, let's not forget slips, trips, and falls. Cleaning professionals come in contact with a lot of potential hazards, like wet floors, or cleaning from tall ladders. The difference between a volunteer and a professional janitor is that the janitor has safety training specifically for these situations. So, volunteers could get hurt when trying to perform janitorial services. Therefore, many churches choose professionals to help keep their house of worship clean and sanitary. 
What Houston Janitorial Services are Needed for Churches?
Which services your church needs really depends on your church, activities, and congregation. There is no one-size-fits-all church cleaning checklist, as every church is a little different. That's why it's important to get a janitorial audit and design services and schedules based on your specific needs. However, most churches will need services that fit into the categories of daily cleaning, disinfection, and deep cleaning.
Daily Cleaning
Regular cleaning is crucial for upkeep and keeping people healthy. Daily Houston janitorial services can include things like:
Dusting
Sweeping
Mopping
Vacuuming
Restroom cleaning
Emptying trash cans
Treating carpet stains
Wiping down frequently touched areas
These services help keep things like dirt, germs, and allergens out of your church building to help keep everything sanitary. This is especially important for churches where so many people gather regularly. 
Disinfection
Disinfection has been on all our minds a lot since 2020, with the CDC even creating a page about COVID-19 guidelines specifically geared toward churches. Even with many people getting vaccinated, church cleaning and disinfection services are still important. Disinfection means killing viruses, bacteria, and other germs that can make members of your congregation sick.
So, even with what we hope is a light at the end of the tunnel of COVID, disinfection is still incredibly important for killing other germs. Many of your members may be more vulnerable to illnesses like the flu or even the common cold, which is why it's vital to take steps to kill as many germs in your facility as possible. 
Disinfection services include using EPA-approved products to kill germs like viruses and bacteria. This process involves first cleaning to remove any dirt or grime, diluting the product according to the label, and allowing it to sit on the surface for seconds or minutes according to the label to help kill germs. 
Deep Cleaning
Deep commercial cleaning includes services that your church doesn't need every day, but might need once a season or once a year. Some deep cleaning services you may need for your church include:
Carpet shampooing
Hard floor buffing, stripping, or waxing
Window cleaning
Exterior pressure washing
Upholstery cleaning
These janitorial services can help reduce wear and tear and help breathe new life into the look of your church. 
Don't Forget these Frequently Used Items!
When you think of potentially germ-laden surfaces in your church, you might think of door handles, light switches, and other high touch surfaces, and you're absolutely right!
However, don't forget some of the other frequently used items in your church. For example, seats or pews, shared hymnals or Bibles, microphones, and pianos. Each of these items probably gets a lot of use from your congregation, which means they can also quickly spread germs to members within your church. These items are also typically a little more difficult to clean and disinfect properly.
Houston Janitorial Services for Church Seating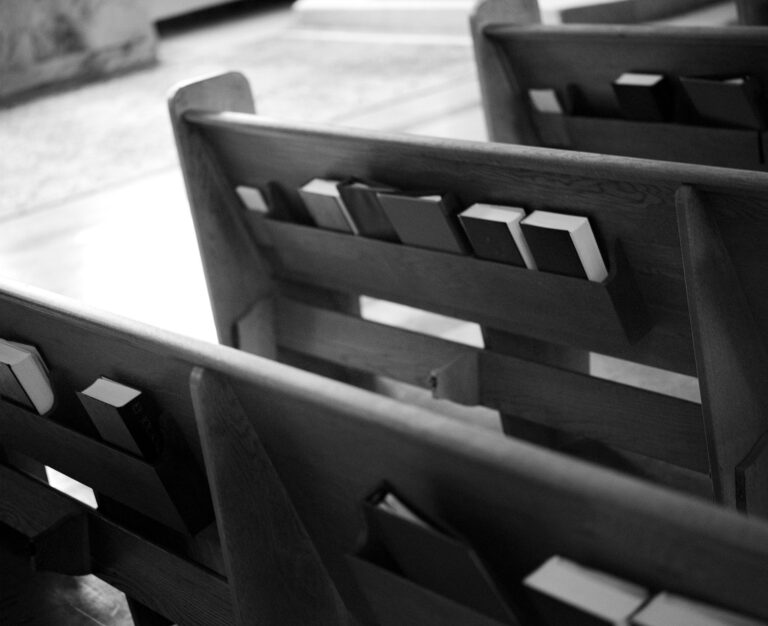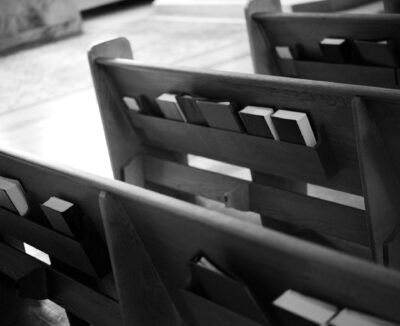 For church seating, it's important to dust or vacuum daily and wipe down surfaces with a cleaning product that doesn't harm the material. Regular cleaning and care can make a huge difference on the lifespan of your chairs or pews. If your seating is upholstered, then you'll need to address any stains as soon as possible. You will also need regular upholstery cleaning (about once a month for most organizations) to help reduce wear and tear. Many Houston commercial cleaning companies do not perform the upholstery care services your church needs to keep seating in good condition, so make sure you find a team that offers all the services you need.
Can You Disinfect Bibles?
Also, many churches provide hymnals, Bibles, and other paper materials to help members follow along during the service. These, too, can harbor germs, but they can be difficult to disinfect. Hardcover books can usually withstand a gentle wipe with a disinfectant wipe. For the pages, keep in mind that most germs die within 48 hours. This means that if paper materials are only used for weekly services, they're probably not a major concern for spreading illness. If you host more frequent Bible studies, try to encourage members to bring their own Bibles to help reduce how often the communal materials are touched and exposed to germs. 
Microphones Come Into Contact with a Lot of Germs
Microphones are essential for many churches to help church leaders, choirs, and others be heard by the whole congregation. However, many don't realize how many germs they can come into contact with. They're regularly exposed to germs from the respiratory droplets and hands of those who use them.
Fortunately, you can disinfect most microphones by wiping them with a little isopropyl alcohol. This helps kill germs without damaging the delicate electronic components. For foam filters, these can usually be washed in warm, soapy water and left to dry for 72 hours to help get rid of germs.
Piano Keys Need Cleaning, Too!
Another staple of many churches are pianos, organs, keyboards, and other similar instruments. Once again, germs from the hands of your piano players can make people sick. Depending on the material, there are a few ways to help reduce germs on piano keys. For plastic keys, found on most keyboards and modern pianos, a disinfectant wipe is usually safe to use. However, ivory or wood piano keys can be quite delicate and porous, so in most cases it's best to gently wipe them clean with a little soap and water to help remove germs from the surface. 
Houston Janitorial Services Customized to Your Organization's Needs
If you need church cleaning in Greater Houston or Beaumont, our team at Accredited Building Services is here for you. We offer customized cleaning services to ensure you receive the highest quality clean that matches your needs and budget. We pride ourselves on offering expert cleaning services at competitive prices for many different types of buildings, including houses of worship. For specialty cleaning services to help keep your congregation happy and healthy, call us now at (281) 578-2296.