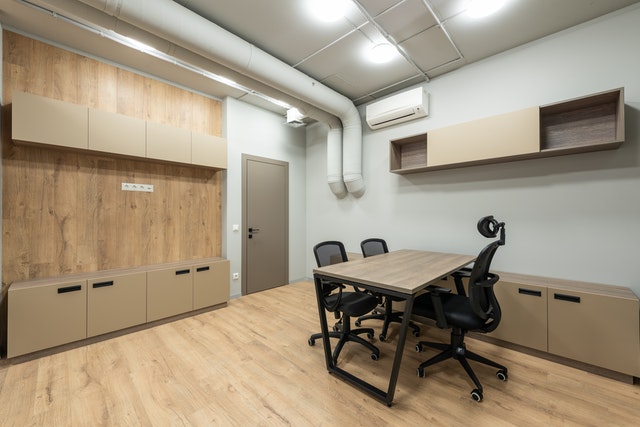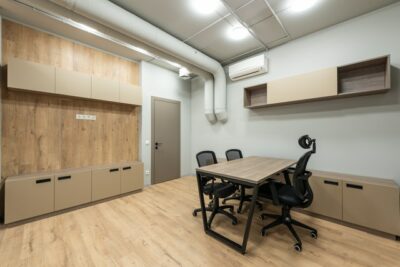 Office chairs are an often neglected area in the workplace that can hide dirt, germs, and allergens. Yet, cleaning an office chair isn't as easy as throwing it in the wash. Our Houston janitorial services can help you keep your chairs clean. We also have some tips if you wish to clean your chairs in between our more thorough cleaning sessions. In this article, we'll discuss best practices, cleaning solutions to use, and other helpful office chair cleaning tidbits. 
Office Chair Cleaning Best Practices from Houston Janitorial Services Pros
As Houston commercial cleaning experts, we have many tips to help you keep your office furniture clean and in great shape. Of course, our team can take care of regular vacuuming and cleaning for chairs in your facility during your routine janitorial services. However, sometimes you may want to clean office chairs in-between normal office cleaning. For instance, if office chairs are frequently full of crumbs from desk eating habits, or if someone spills on their chair. 
Here are some general tips for keeping office chairs clean and sanitary:
Clean spills immediately by blotting with a clean cloth
Treat stains immediately with stain removers safe for the chair material
Office chairs should be cleaned at least once a week by vacuuming and spot cleaning
If upholstered office chairs have an odor, sprinkle baking soda and allow to sit for several minutes before vacuuming
Always test cleaning supplies in an inconspicuous area first
Never soak office chairs – it encourages mold growth
Always use lint-free cloths
Use white cloths to prevent dye transfer
Never use abrasive tools or cleaning products on office chairs
How Our Houston Janitorial Services Team Recommends Choosing Cleaners
When cleaning office chairs, it's essential to choose the right cleaning products. Otherwise, you may find yourself with discolored or damaged chairs. There are many types of cleaning products to choose from, so it can be hard to know what kind of cleaner to use. 
We recommend checking care instructions from the manufacturer. You'll often find these in user manuals that come with the chair (or online if you've already thrown the paperwork out). These care instructions should give you detailed instructions on what is and isn't safe to use on your office chair. 
Generally, you want to start with the mildest cleaning solution that is safe per the manufacturer. The gentler the cleaner, the lower the risk of accidental damage or extra wear and tear on your office furniture. If you find yourself dealing with incredibly stubborn soils or stains, our Houston janitorial services can help with deeper cleaning and stain removal.
In most cases, rubbing alcohol is an effective cleaning option for removing most stains, such as pen ink or chocolate. Rubbing alcohol is safe for most types of fabrics and office chair materials, as it contains very little water and evaporates quickly. However, always be safe and test in an unnoticeable area first. 
Check the Chair for Cleaning Information
Our Houston janitorial services team also recommends checking the chair itself for tags that indicate cleaning instructions. Often, the chair's tag will have a cleaning code to show you what you can and can't use to clean your office chair. Here are some common cleaning codes found on office chairs:
S: If you see the cleaning code "S" on your office chair's tag, this means you should use only solvents and avoid water-based cleaners. These types of solvents are similar to the ones dry cleaners use on clothes. For spot cleaning, you can typically find special cleaning solvents and keep them in your office for spills and dirt buildup. 
W: The "W" cleaning code means it's safe to use water-based cleaners on the office chair fabric. Just keep in mind that you never want to soak your office chair, but you can apply water-based cleaning solutions with a damp cloth to the area. 
S/W: This cleaning code for office chairs means you can use either solvents or water-based cleaners on the chair. Generally, this means you can use water-based cleaners for spot cleaning or stain removal and should opt for professional Houston janitorial services when the chair needs deep cleaning. 
X: This cleaning code is rarer, but you still may find it on office chairs from time to time. This means the fabric is vacuum only. 
Understanding these cleaning codes can help you choose the right cleaning product for the job. In an office, you likely have the same chairs throughout your workplace. So, once you find a product that works well, make sure you have it on hand so your employees can use it to prevent permanent stains and damage. 
Houston Janitorial Services Tips for Cleaning Chairs By Material
It's also important to keep in mind the material when cleaning office chairs. Some cleaning methods and products may work better for one type of chair compared to another. As we mentioned, you should always check with the manufacturer for specific care instructions. However, we do have some cleaning tips based on the chair material. 
Leather chairs are great because they are pretty spill and stain resistant. In most cases, all you need to do is wipe soils away with a damp cloth. You can also use a few drops of mild dish soap with about a quart of water to wipe away grime. Make sure you dry the chair thoroughly and follow up with a leather protector or conditioner. This helps prevent the leather from drying out and cracking. 
Mesh office chairs are also quite common and help employees stay cool. These chairs are also pretty easy to clean. Simply dab with a mild soap and water solution. The key is to be gentle, as vigorous scrubbing can make the mesh fray. 
For polyester upholstered office chairs, using a mild soap and water solution is typically safe. Just apply with a damp cloth to spot clean and make sure there's plenty of airflow near the chair to help it dry out as soon as possible. 
Deep Cleaning Office Chairs & Furniture
While you can clean office chairs yourself, nothing beats the thorough clean of professional Houston janitorial services. When you need deep cleaning for office chairs, our team offers upholstery cleaning services for all your office furniture. 
You may need deep cleaning for your office chairs a few times per year to get rid of things like germs, dirt, and dead skin cells that find their way deep inside the fabric. Deep office chair cleaning helps keep your chairs sanitary as well as in good condition, as built up dirt and debris can cause premature wear and tear on your office furniture. Our team is here to help with all your cleaning needs to keep your office spotless. 
Need Houston Business Cleaning Near You? Choose Our Team at Accredited Building Services
When you need Houston business cleaning, our experts at Accredited Building Services offer exceptional service. We've been helping Houston and Beaumont businesses since 1980 through thorough, friendly janitorial services. Our team has the training and knowledge to clean all types of facilities, including offices, churches, and even industrial plants. Get in touch now to get a free quote for your cleaning and maintenance needs.