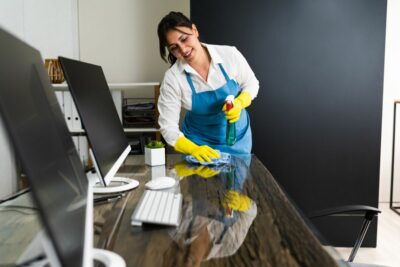 I'm sure everyone's experienced it – the dreaded illness that sweeps its way through the office. One day there's one person who is a little under the weather and over the following days and weeks, the office looks like a ghost town. Whether it's the flu, a cold, a stomach bug, or even COVID, it can have a huge affect on productivity. Yet, surveys show that people do knowingly come to work sick for one reason or another. Therefore, it's really hard to prevent germs from making their way into your workplace. Instead, it's important to take other measures to prevent the spread of illness through your office. Encouraging good hand washing habits is one important part, though as we all know it's impossible to control how often or how well people wash their hands. What is in your control as a business owner or office manager is cleaning. Regular commercial cleaning services in Houston can have a huge impact on germs in your office. In this blog, you'll learn why cleaning is one of your most effective tools for fighting sickness in the workplace for better productivity.
If you need cleaning for your Houston workplace, contact our team now to get a custom quote. 
Houston Commercial Cleaning Services Can Prevent Germ Transmission
When you think of germs and illnesses, you might think of people sneezing or coughing near each other. While this is certainly one way that people get sick, don't forget another really common way for disease transmission: through surfaces. Also known as fomite transmission, this is where germs land on surfaces. Sometimes it's through someone who is sick physically touching the surface. Other times, it's from infected respiratory droplets settling on surfaces from the air.
Surfaces can become hot spots for germs like viruses, bacteria, and fungi that can make people sick. Surface transmission is possible for many types of germs, including common concerns like the flu, stomach viruses, and colds. What's worse, most people won't even know that they picked up the bug until it's too late and they've already started spreading it to other areas (and people) around the office. This can make the illness spread to a lot of people over long periods of time. Some people might even get sick multiple times because of contaminated surfaces.
If this sounds super demoralizing to you, have hope – Houston commercial cleaning services can help stop this cycle. Cleaning is one of the best things you can do to prevent surface transmission of harmful and sometimes deadly germs in your office. Here's how:
How Houston Commercial Cleaning Services Removes Germs
Commercial cleaning services generally start with dusting and wiping down surfaces with soap and water. This is a critical part of reducing germs in your office. Why? Because dusting and using soap can actually remove germs from surfaces. Rather than staying on surfaces in your office and making people sick, they will get trapped on the cloth instead, later eradicated when they go through the sanitizing washing process used for cleaning towels. 
Houston Janitorial Services Include Disinfection to Kill Any Germs Left Behind from Cleaning
In addition to cleaning with soap and water, many Houston janitorial services also include disinfection. Disinfection involves first cleaning to remove dirt, dust, and grime from a surface, and then following up with an EPA-approved disinfectant. Disinfectants work to actually kill germs so they can't make people sick. This adds another layer of protection for your workplace and employees against germs. 
Germs Spread Quickly in the Office
Now, you might be wondering what the risk really is, especially if you're looking at different companies and prices for commercial cleaning services in Houston. It's obviously important to weigh the benefits and risks before making a decision. What you need to know is that germs spread quickly and widely in office environments. 
One study from 2013 found that germs spread really quickly in the office, even when most people are working in isolated areas without a lot of collaboration. In the study, just one person in a medium sized office received a droplet of fake viruses on their hand and went about their day as normal. Within four hours, over half of high touch surfaces were contaminated with the test germ. So, it's actually a huge risk if you're not cleaning and disinfecting surfaces regularly in the office. 
Common Surfaces Where Workplace Germs Can Lurk
Basically any surface can get contaminated with germs. However, there are some higher risk areas. For instance, hard, non-porous surfaces are more likely to hold onto germs longer. Some studies have even found that germs can live for months afterward. Though, most of the common viruses you might get sick from last anywhere from a few hours to a few days on surfaces like plastic, metal, and glass. 
Certain surfaces that people are more likely to touch throughout the day are also more likely to contribute to illnesses in the workplace. These high touch surfaces include:
Door handles
Countertops
Desktops
Light switches
Keyboards
Phones
Toilet handles
Faucet handles
Copy machine/printer buttons
These areas are places that are more likely to be contaminated with germs and spread to people throughout the building. Making sure that Houston office cleaning services address these areas can have a huge impact on disease transmission in your workplace. 
Important Commercial Cleaning Services You Need to Stop the Spread of Illness
So, what exact commercial cleaning services do you need to reduce the risk of illnesses spreading through your workplace? As we mentioned, cleaning and disinfecting can go a long way in reducing germs in the office. Making sure you get daily cleaning throughout the office is a great place to start. However, don't forget that daily disinfecting of certain high risk surfaces is also necessary. Our team can help you determine exactly what services you need and on what schedule, but keep in mind that the more often you clean and disinfect, the less risk for germs to infect people in your workplace. 
Choosing the Right Team for Houston Office Cleaning
Unfortunately, you can't trust just any team to provide the thorough commercial cleaning services in Houston needed to protect your workforce from illnesses. There are many crews out there that cut corners, don't use the right products, or don't know the right methods for cleaning and disinfection. For instance, disinfectants are commonly misused by not being diluted correctly or not allowing the surface to remain wet for the proper dwell time. The result is that disinfectants can't properly kill germs on surfaces. Instead, it creates a false sense of safety. Instead, make sure you choose a team with proven experience, dedication to quality, and that provides thorough training to each member of the janitorial staff. Your immune system will thank you for it. 
Top Quality Houston Commercial Cleaning Services from Accredited Building Services
Our experts at Accredited Building Services are proud to offer the level of clean you can trust to keep your workplace healthy. We provide thorough Houston commercial cleaning services customized to your workplace. With our 43 years in business, commercial property owners and managers know us for our dedication to quality. For comprehensive cleaning and maintenance services, contact us today to get a quote.