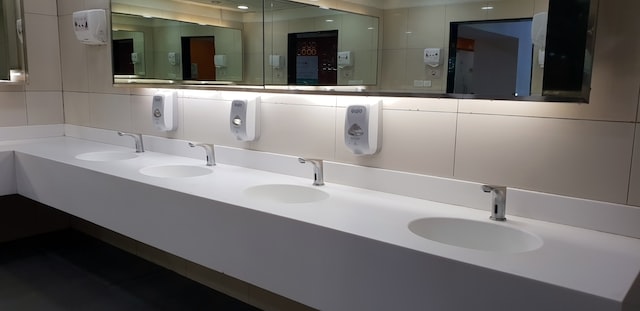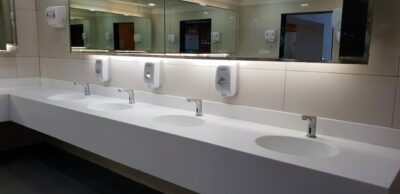 Water stains are a serious problem in commercial restrooms. Even if your commercial restrooms have just been cleaned, there may still be discoloration or a rough texture around the sinks and toilets. Water stains are tougher than most, and your general surface cleaner may not be enough. You might even be tempted to renovate to get rid of those unsightly discolorations. Don't worry, professional Houston commercial cleaning experts know how to remove those hard water stains from your restroom fixtures.
At Accredited Building Services, we know all the right tricks to remove hard water stains that build up around faucets, sinks, mirrors, and tile. If you're ready to get rid of water stains in your commercial building, contact us today for expert Houston commercial cleaning services.
Why You Need Houston Commercial Cleaning
Cleaning is essential to maintaining a professional look. Everyone knows a high quality workplace provides a nice-looking and sanitary environment for employees and clients. A Houston janitorial services company can also extend the life of your flooring, plumbing, fixtures, and beyond by reducing the wear-and-tear caused by grit or long-term exposure to oils, acids, or hard water minerals from everyday office life.
A Houston office cleaning service can secure your reputation as a high-end venue for customers or clients and ensure your employees are comfortable coming into work. Good maintenance can also extend the life of many things in your building. However, many commercial facilities have serious hard water stains in the bathroom that normal cleaning methods simply cannot remove. In this case, you'll need a Houston commercial cleaning service that knows how to handle hard water.
Houston Commercial Cleaning for Hard Water Stains
Over 90% of U.S. neighborhoods have hard water. Hard water contains a lot of minerals like calcium, iron, and magnesium. These are naturally found in groundwater, but can leave behind stains on various surfaces, particularly around the restroom. The crust around a sink faucet, persistent rings in the toilets, and whitish discoloration on any fixture near a water source are all hard water stains.
Known as "scale" in the plumbing business, water stains are actually left behind minerals. The water evaporates from the surface, but the minerals stick around. The problem is, normal cleaning products and methods often don't remove tough water stains. These are especially hard to remove if they've been building up for some time. The variety of minerals in your facility's tap water will determine both the color and severity of the water stains that appear. Water heavier in minerals will form a tougher stain, while minerals with notable color like iron can also discolor surfaces.
Because commercial restrooms involve using a lot of running water, they are the most common places you'll find water stains in a facility. We have the products and methods needed to remove these stains. Here are common places you may find scale buildup:
Toilet Bowls
If there is iron content in your water, toilet bowls may have yellow or reddish rings at the water line. This is not normal toilet discoloration, but staining from iron particles in the water.
Depending on the severity of your toilet bowl stains, there are a few things that a professional Houston commercial cleaning team can try.  
The first method is to scrub with toilet bowl cleaner and a brush like normal. If this doesn't work, we may use a more acidic cleaner to break down the deposits. For instance, white vinegar and CLR are popular choices. If necessary, we may use a pumice stone or other abrasive material to manually remove the stain from the porcelain.
Base of Toilet
If you see discoloration or scale around the base of a toilet, this usually means your toilet has leaked. The first step is to make sure the toilet is not still leaking, and that these stains were left behind after some past repair was complete. 
Cleaning water stains at the toilet base depends on the type of flooring. For most tile types, an acidic cleaner will do just fine. In some circumstances, we may use a mild abrasive powder. It's key to leave this to professionals. You can permanently damage floors with the wrong products or methods.
Restroom Countertops
Countertops are among the most important bathroom surfaces for your Houston office cleaning team to focus on. Gleaming clean countertops reflect sanitation and cleanliness. So, the crust-like film of mineral water stains is not the look you're going for. 
The right method for cleaning water stains from commercial countertops depends on the material and finish. For example, we can safely clean solid surface counters with a mild acid and abrasive. However, if you have real stone counters in your building, then acidic cleaners can damage them, so we'll opt for something else instead.
Restroom Fixtures
Lastly, we can address the water stains on your restroom fixtures. From shiny chrome to aged bronze, whatever your building style, water stains can cause unwanted discoloration and texture. However, they are the single most likely place to see water stains, as there is constant water running and light splashes as people wash their hands. If regular soap and water or typical cleaning solutions don't remove the hard water spots, your Houston commercial cleaning team will know what to do.
We typically use a gentle acid cleaner and/or a mild abrasive to polish the metal and remove all of the water stains around your faucets and fixtures.
Get Expert Houston Commercial Cleaning from Accredited Building Services
Accredited Building Services is one of Houston's foremost commercial cleaning teams. With over 40 years in the business, we ensure every team is equipped with thorough and comprehensive training on not only the correct cleaning and disinfecting methods, but also on commercial security measures to keep your facility safe from beginning to end. Contact us today for a free quote for Houston commercial cleaning services.