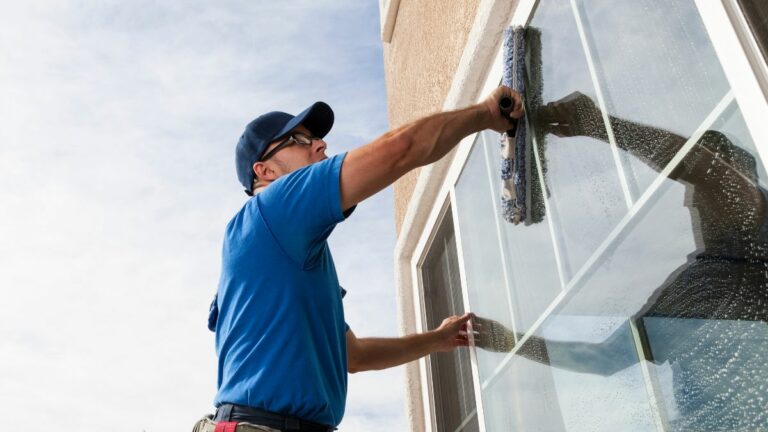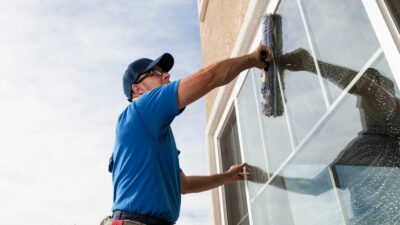 Are your building's walls and windows looking a bit grimy? Do you want to spruce up the exterior of your commercial structure so it looks its best for customers, employees, and passersby? Cleaning up the outside of your business with a reliable Houston building cleaning service can make an incredible difference in both how it looks and how people view it. 
With the help of an experienced team of professionals, exterior commercial building cleanup can make your building stand out again. In this blog post, we will discuss the best way to go about getting your building exterior properly cleaned so you can make a great first impression with customers. To get a quote for a full exterior building cleaning service with our Houston team, contact us today!
Assessing the Current State of Your Commercial Building's Exterior
Keeping your commercial building looking its best is key to maintaining a positive and professional image. Assessing the current state of your building's exterior is an important first step in determining any necessary maintenance or upgrades. A thorough inspection can reveal anything from minor cosmetic issues such as chipped paint to more serious concerns such as water damage or structural issues. 
Take the time to assess the condition of your building's exterior. This will help ensure that it remains not only aesthetically pleasing but also safe and functional for years to come. Here are some items you can assess, if applicable:
Are all entrances and exits properly marked?
Is the company's name clearly visible?
Is the building's roof in good shape?
Are windows and doors in need of washing?
Is the exterior siding in good shape?
Is the building free of vandalism?
Are emergency exits d free of obstructions?
Is there sufficient lighting on the building's exterior?
Are there any cracks in the building's exterior walls?
Are there signs of weather damage?
Is the parking structure properly maintained?
Are the gutters free of debris?
Benefits of Cleaning Up Commercial Building's Exterior
First impressions matter. When it comes to commercial buildings, a well-maintained exterior can go a long way in attracting new customers and maintaining a professional image. Harvard Business Review says that the average consumer forms an impression of a retail interaction in about 7 seconds. Within those first 7 seconds, customers will form 11 impressions of your business. This is known as the 7/11 rule. So, don't underestimate the power of a clean, polished exterior—it could be the key to unlocking your business's full potential.
That's why Houston building cleaning services are essential for businesses looking to maximize their curb appeal. Clean windows, walls, and sidewalks not only make a building look more inviting, but they can also improve the overall safety of the property. The benefits don't stop there—regular exterior maintenance can even increase the lifespan of your building. 
How Houston Building Cleaning Preps the Exterior for Cleanup
Houston building cleaning is a time-consuming task, but our experts are up to the job! It is important to start on the right foot by prepping the exterior for cleanup. By properly prepping the exterior, Houston building cleaning professionals can ensure a thorough and efficient cleaning process that leaves your building looking clean and presentable.
The first step is to thoroughly inspect the building for any signs of damage, such as cracks, broken windows, or loose tiles. Minor repairs then should be completed. Once any repairs have been made, the next step is to carefully wash away debris and dirt using a pressure washer, if safe to use on your exterior surface. If required, a follow-up cleaning process will use a cleaning solution to break down deep grime, ensuring a bright and clean surface. 
Cleaning Strategies for Each Area
Houston is a bustling city that's home to a vast array of buildings made from different materials. As such, building cleaning services in Houston must be well-versed in cleaning all types of surfaces. Cleaning strategies for different surfaces vary and require specific techniques. For instance, glass surfaces require careful cleaning to avoid leaving streaks, while brick surfaces demand a gentle touch to avoid damaging the surface. 
Our experienced team understands these nuances and employs the right strategies to ensure that all surfaces are left gleaming. Their expertise in cleaning different surfaces is not only critical for maintaining the aesthetics of buildings but also for enhancing the durability of structures. 
Safety Checklist for Exterior Clean Up
Keeping the inside and outside of your building safe is of the utmost importance for employees and customers who come onto your property. Cleaning staff play a vital role in making that happen. To ensure that their cleaning routines are as safe as possible, our cleaning crews use safety checklists. This way, no important details are overlooked, helping to prevent potential liability issues. These checklists typically cover a wide range of topics, from proper use of hazardous cleaning chemicals to ensuring sidewalks are free of any slip or trip hazards. By following these checklists diligently, building cleaning staff can help keep your property clean, healthy, and safe for everyone.
Exterior Cleanup from Houston Building Cleaning
Accredited Building Services is your go-to janitorial service for any and all of your commercial building needs. Our staff is well trained and our services are comprehensive. With routine maintenance from the Houston building cleaning services team, you can be sure that your commercial building's exterior will be kept to a high standard of quality. 
Maintain a safe, inviting environment today with service from Accredited Building Services! We offer competitive pricing and exceptional customer service to each of our clients—so contact us for a quote today.