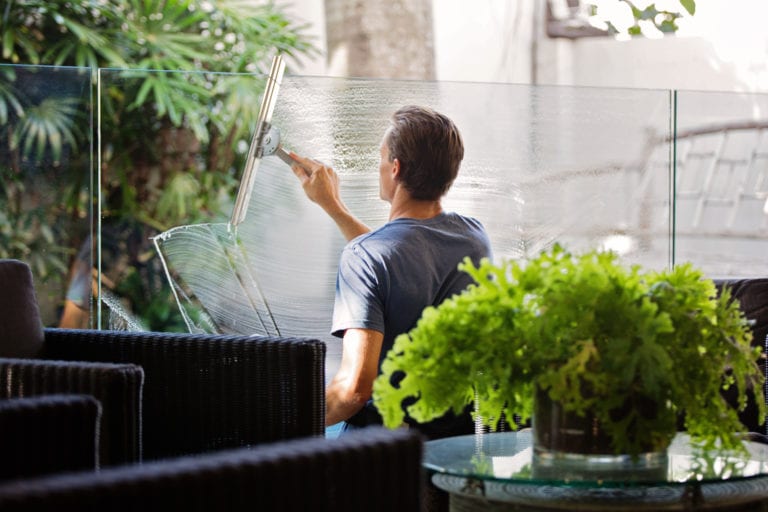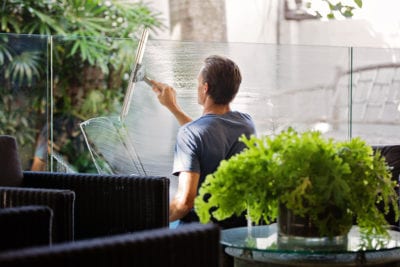 Building cleaning offers many advantages for your business. It helps keep your customers and staff healthy and makes you look more professional. A clean work environment also helps your employees feel happy and productive so they can work harder and more efficiently. For those advantages alone, you need professional cleaning services. However, a clean work environment also offers other benefits. Working with a building cleaning crew can also save your business money in many ways. Choose a high-quality, well-trained cleaning crew to start reducing unnecessary expenses and improve your overall operations.
Building Cleaning Prevents Wear and Tear
Regular janitorial services help keep your building in good condition. This can help reduce wear and tear on your equipment. For instance, frequent floor cleaning and care helps you avoid the expense of replacing flooring or carpets. Proper commercial floor care can help reduce rotting in hard wood and other types of flooring. Also, regular vacuuming and carpet shampooing helps prevent stains that make your carpets look old and unprofessional.
Similarly, building cleaning includes services for your office furniture. Over time, upholstered office furniture will become dirty and may show stains. Without cleaning services, this can make your furniture look old or outdated. By contrast, regular cleaning helps keep your office furniture looking fresh, so you won't have to replace it as often.  
Also, building cleaning can even help keep your computers in good repair. Dirt and dust are terrible for computers. Dust starts to accumulate in different areas of your computers, like the fans. This can make it difficult for your computers to get adequate ventilation. Eventually, they may start to overheat and malfunction due to dust. However, regular cleaning and dusting can help prevent this buildup in your company computers to help them last longer and function at peak efficiency.
Building Cleaning Can Reduce Risks for Accidents

 
Another great example of why you need professional janitorial services is that a clean workplace can help reduce liability. Sweeping and mopping your floors helps prevent them from getting slippery, which can reduce the risk for slip and fall accidents. Regular cleaning also helps remove tripping hazards from your work environment. For example, your cleaning crew will tuck in chairs and other items that your staff and customers can easily catch their feet on. This helps reduce workers compensation claims and liability for customer accidents and lawsuits.
Also, removing dust can help reduce your fire risk. We now know that dust can make computers overheat. Overheating equipment can actually combust, which is definitely a fire hazard. However, even less dramatic is that dust itself, even on a surface like a desk, can increase your risk for a fire. In fact, having a buildup of more than 0.8 millimeters of dust covering 5% or more of an area is enough to be considered a fire risk. Dust, by nature, is combustible, which is why your building cleaning crew will help remove it from your workplace.
Janitorial Services Help Prevent Long-Term Issues
Saving money in the short-term is great, but building cleaning also offers long-term cost savings. It's safe to say that it's more cost-effective to replace items only when absolutely necessary. For example, you wouldn't replace the dishes in your home every time they were dirty. Instead, you wash them and replace them when they break. This principle also applies to your business.
Cleaning services help catch issues and prevent long-term problems in the future. For example, stains on your carpet. Without stain removal and carpet protection, your business might need to replace the carpet sooner rather than later to maintain a professional image. Instead, your cleaning crew can extend the life of your carpet and flooring with regular cleaning and floor care.
Another common issue you might run into is mold growth. Without frequent cleaning services, moisture can easily go unnoticed. This can create the perfect environment for mold, mildew, and rot. This not only poses a health risk to everyone in your building, it will also require replacement for your furniture, carpet, flooring, or any other affected areas. However, your janitorial professionals thoroughly clean every area of your building to help prevent mold and mildew. Therefore, a cleaning contract can nip many issues in the bud before they cost you a fortune in repairs and replacement costs.
Save on Cleaning Equipment and Supplies
Working with a building cleaning company also helps you save time and money on commercial cleaning equipment and supplies. Cleaning a commercial or industrial building is a big job and requires a lot of specialized equipment to do it effectively. Working with an established and trusted cleaning crew means you avoid the expense required to purchase, maintain, and eventually replace equipment like commercial vacuums, pressure washers, carpet and upholstery equipment, and other necessary items.
Additionally, your business cleaning company can also help you save money on cleaning products like disinfectant sprays, floor cleaners, degreasers, and other important cleaning solutions. First, your cleaning company brings everything they need to clean your business. This means you don't have to take the time or expense of purchasing and maintaining an inventory of these necessities. Also, because your building cleaning crew orders these things in such large quantities to keep your facility and other buildings clean, they often receive much lower prices. Therefore, even for the things you do need to have in stock for your business, your cleaning company can often provide more affordable prices than anyone else.  
Flexible Building Cleaning for Your Needs and Budget
In addition, you can save money on your commercial cleaning services by designing a cleaning contract based on your needs and budget. Custom contracts are a great way to only spend money on the services you need. For example, many janitorial companies offer package plans with standard services and schedules. However, what if that package includes carpet cleaning and you only have tile in your building? Or, what if you need floor care more frequently than you need upholstery cleaning?
Rather than charge you for services you don't need or for having a cleaning crew come more frequently than needed, it's best to sit down and design a contract specifically designed for your building and business. This is a cost-effective, affordable way to ensure you receive the highest quality cleaning services.
At Accredited Building Services, our goal is to provide you with the most practical, affordable, and effective cleaning services for your facility. Our team handles everything, so you have a no-hassle solution for keeping your workplace clean and healthy. We sit down with you to customize a cleaning contract perfectly tailored to your needs and your budget. Call us today at (281) 578-2296 to learn more and request a free quote. We are here to serve you!